Fashion Trends
Fashion Shop Consciously from the We Wear Fair Trade 2020 Lookbook
Dominique Drakeford and Whitney McGuire of Sustainable Brooklyn wearing Fair Trade. Photo: Christelle de CastroIn a time of global crisis, it's becoming more clear than ever what is essential and what is not. And as far as Fair Trade USA is concerned, nothing should be considered more essential in the fashion industry than the wellbeing of…
Fashion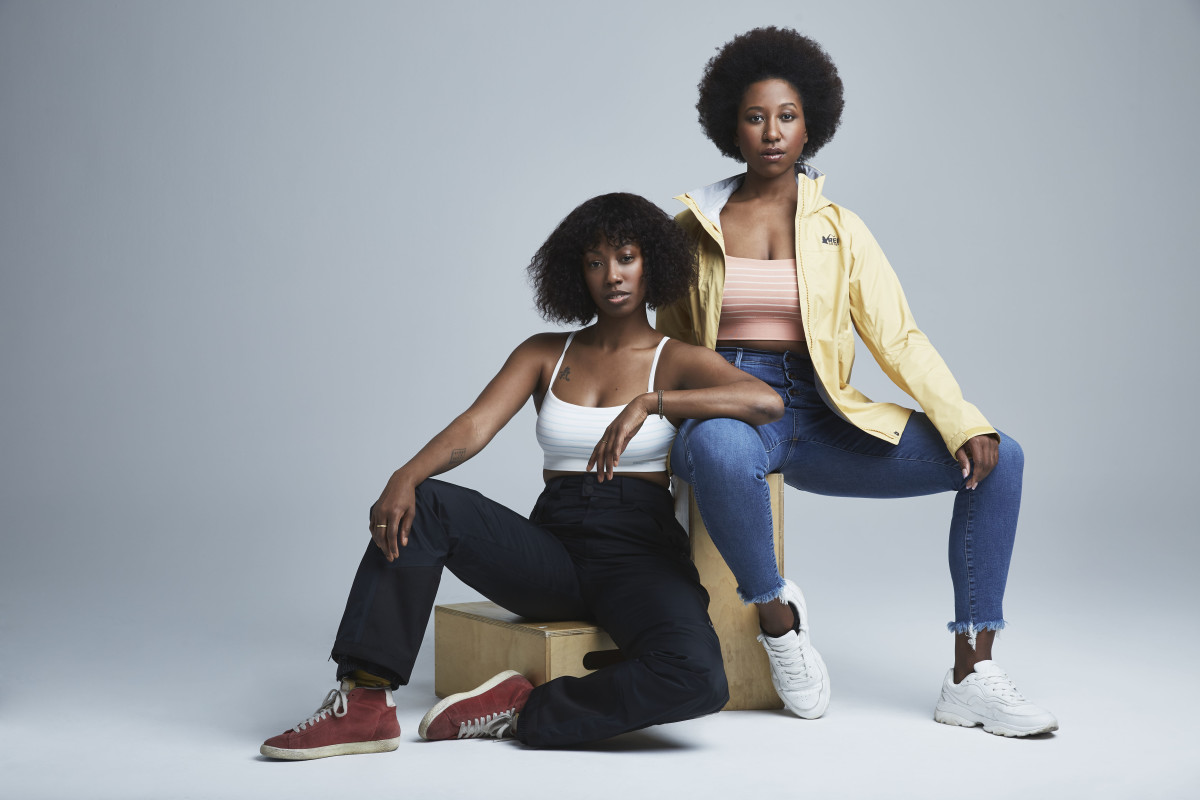 In a time of global crisis, it's becoming more clear than ever what is essential and what is not. And as far as Fair Trade USA is concerned, nothing should be considered more essential in the fashion industry than the wellbeing of the people who make our clothes.
"The impacts of this crisis are being felt far and wide, especially by the most vulnerable, like garment workers," stylist and fair trade collaborator Rachael Wang tells Fashionista in an email. 
On April 20, Fair Trade USA — a nonprofit that helps ensure the ethical practices of garment factories — launched its second We Wear Fair Trade lookbook, aimed at highlighting the work it does to protect the garment workers behind every item of clothing, in collaboration with Wang. The looks feature Fair Trade Certified brands like Patagonia, Madewell, Obey Clothing, J.Crew and more. 
Not only does the lookbook showcase clothing that aligns with a specific mission, but it showcases models who do, too. Each woman featured in the lookbook is a champion of environmental or human rights causes in one way or another, from youth climate activist Alexandria Villaseñor to human rights campaigner Ayesha Barenblat to model and sustainability advocate Cameron Russell.
As the whole industry struggles, those garment workers who are able to work are in need of protection. "The impacts of this crisis are being felt far and wide, especially by the most vulnerable, like garment workers," Wang says. "Fair Trade standards can help to mitigate this risk by increasing their access to healthcare services, sanitation and preventative resources, giving these workers the tools they need for resiliency through worker-controlled Community Development Funds."
It's this commitment to workers — even when the going gets tough — that differentiates Fair Trade Certified clothing. While any brand can slap a picture of workers on its website and claim it's caring for them, Fair Trade Certification ensures that brand claims are backed up by third-party auditing. 
Wang believes that these kinds of commitments are what fashion lovers should unite around in a trying time for the industry and the world.
"Buying and wearing Fair Trade Certified factory-made clothing directly supports the lives and dignity of the people who make them," Wang explains. "Without garment workers, we would not have fashion, and voting with our dollars and using our voices allows us to advocate for their well-being and their right to sustainable livelihoods."
Real Life. Real News. Real Voices
Help us tell more of the stories that matter
Become a founding member
Support Fair Trade Certified apparel by shopping Fashionista's favorite picks from the We Wear Fair Trade lookbook below. 
Stay current on the latest trends, news and people shaping the fashion industry. Sign up for our daily newsletter.
Subscribe to the newsletter news
We hate SPAM and promise to keep your email address safe